Brexit Worsens U.K. Energy Supply Risk as Coal Retirement Looms
Britain's decision to leave the European Union may push back its planned exit from coal, a mainstay in the nation's energy supply for more than a century. As the region's second-biggest economy plans to close its last coal-fired power plant in less than a decade, it will be forced to rely more than ever on imports of natural gas and electricity. By leaving the EU, Britain could lose easy access to foreign supplies through the bloc's single market, just as it plans to almost triple the number of power cables linking it to European nations by 2022.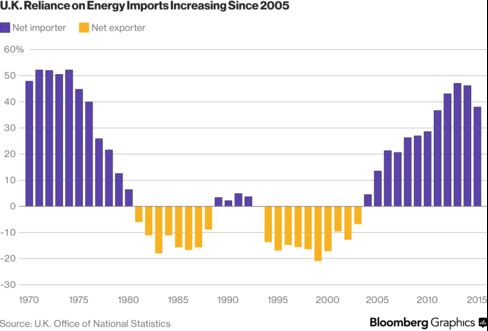 U.K. utilities have closed coal plants that made up 9 percent of total generation capacity in the past year, adding to a shrinking supply margin that forced National Grid Plc to pay about 150 million pounds ($196 million) to keep already idled stations on standby since 2014. Some of the gap was meant to be filled by Electricite de France SA's 18 billion-pound Hinkley Point C reactor, now thrown into doubt by new Prime Minister Theresa May's call for more time to review the project.
"Brexit could make keeping the lights on more challenging," said Alex Harrison, counsel at Hogan Lovells in London, who specializes in electricity markets and utilities. If security of supply is threatened, "we may even see coal-fired generation being kept on post 2025," he said.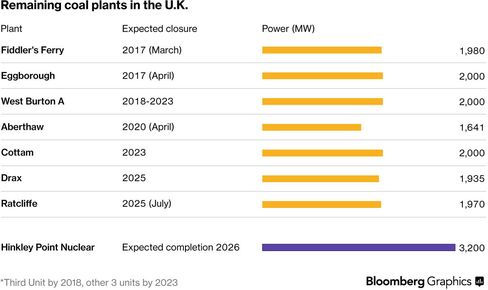 Exiting the EU will put Britain at a disadvantage, as it may be excluded from having a say in rules for the bloc's wholesale power and gas markets, according to Paul Dorfman, a senior research fellow at the Energy Institute, University College London.
"The U.K. won't be taken into account in decisions about the EU energy market and there is a real potential risk that Brexit will adversely affect Britain's energy market," Dorfman said.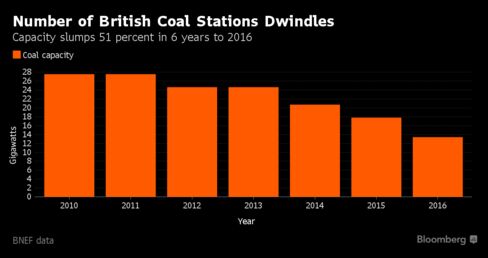 Under an energy policy aimed at reducing carbon pollution, May's predecessor David Cameron decided in November that coal stations, most built in the 1960s and 70s, would be replaced by natural gas and nuclear power. While gas isn't carbon free, it produces about half the emissions of coal.
To cover any possible shortfalls exacerbated by coal's exit, National Grid has contracts for reserve power for this winter. From next year, a government mechanism called the capacity market will ensure security of supply by paying operators to guarantee they will stay open.
Lights On
"Keeping the lights on is non-negotiable, and the government has plans in place to ensure we always have enough supplies," a spokesperson for the Department of Energy & Industrial Strategy said by e-mail.
Even with capacity payments, coal fired-stations are under pressure, with plants unprofitable on a monthly basis since April. The facilities need 40-45 pounds a kilowatt from the capacity auctions to make them profitable, more than double last year's price, said Lakis Athanasiou, a London-based analyst at Agency Partners LLP.
Npower, the U.K. unit of Germany's RWE AG, and SSE Plc declined to comment on the outlook for their coal plants. Uniper AG said the fuel has a part in the U.K.'s energy mix and plans to keep its Ratcliffe station generating into the "late 2020s" after completing environmental improvement works.
EDF still expects Hinkley Point C to be constructed within a decade after getting final approval from the U.K. government. Others are less optimistic.
"Even if Hinkley is built, it won't be until the 2030s and clearly there will be a supply gap in the 2020s that needs to be monitored," UCL's Dorfman said.
Fonte: Bloomberg