EU Installs Record Wind Power as Technology Leapfrogs Hydro
The European Union installed record wind-power capacity in 2015 as the technology leapfrogged hydropower to become the third-biggest source of electricity in the 28-nation bloc. Germany's market led the growth, installing 47 percent of the 12.8-gigawatts of new wind power capacity across the region, the European Wind Energy Association said Tuesday in an e-mailed report. Record offshore installations canceled out a dip in new onshore machines. That pushed the total for 2015 above the 12.1 gigawatts registered in 2014.
"Wind power accounts for one-third of all new power installations since 2000
in the EU," the association said. "Conventional power sources such as fuel oil and coal continue to decommission more capacity than they install."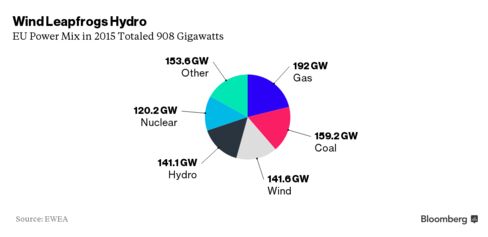 Wind energy is booming in Europe as member states strive to lower emissions by 40 percent in the four decades through 2030 to fight climate change. As costs come down, onshore wind is becoming more competitive with traditional forms of power generation, enabling developers and policymakers to glimpse a subsidy-free future.
Investors poured a record 26.4 billion euros ($29.3 billion) into wind across Europe in 2015, boosted by a doubling of expenditure in the offshore sector, according to wind association. The EU may see a dip in grid connections for both onshore and offshore wind this year as growth in the industry slows, according to Oliver Joy, a spokesman for EWEA.
While offshore wind may rebound in 2017, "the outlook for onshore is less clear due to regulatory uncertainty in some member states," Joy said in an e-mail. "It is likely that Germany will move to a tendering system while the future of support in countries such as the U.K., Poland and Spain remains unsure. Investors and industry still need policy clarity post-2020."
Paris Deal
Renewables were given a fillip in December when 195 nations agreed for the first time to a climate treaty that is binding on all countries. The EU target for renewables to account for 27 percent of energy consumption by 2030 is binding only at a bloc-wide level, without objectives for individual member states.
Last year, wind accounted for 44 percent of new generating capacity across the EU. The bloc's 141.6 gigawatts of wind turbines now account for 15.6 percent of its power capacity, compared to 15.5 percent for hydro power, according to the report. Gas leads on 21.1 percent, followed by coal on 17.5 percent.
After Germany, the biggest markets in 2015 were Poland, with 9.9 percent of EU installations, France on 8.4 percent and the U.K. on 7.6 percent. One-time European leader Spain installed no new wind capacity last year.
Fonte: Bloomberg