Scottish draft climate change plan 'lacks credibility'
Scotland's draft climate change plan lacks credibility, according to an independent body.
The UK Committee on Climate Change (CCC) found the plan focused too much on the rapid deployment of low carbon heating rather than addressing wider areas like transport emissions.
But it added that the Scottish government was still leading the UK on tackling greenhouse gas emissions.
The Scottish government said it showed "the strong progress being made".
Ministers met the 2015 target to reduce emissions and are on course to hit the interim aim of reducing emissions by 42% by 2020.
'Scotland leads the UK'
The committee's main role is to examine the government's progress in meeting annual targets set in law.
But this year they have also scrutinised ministers' draft climate change plan which sets out how greenhouse gases will be lowered in the longer term.
The report found:
Scotland is performing well compared with other nations in the UK and the UK as a whole
The annual target for 2015 – the most recent available – was met
Most progress has been made by decarbonising the electricity generation sector but more effort is needed elsewhere
However, the report was critical of the draft climate change plan, saying it contained little beyond existing policy which meant recent progress was unlikely to continue beyond 2020.
Policies have been announced since the draft plan was published, such as the creation of three further low-emissions zones by 2020 on top of the one promised by the end of next year.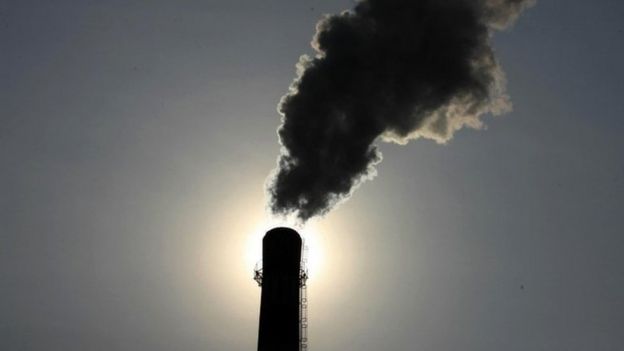 Committee chairman Lord Deben said: "Scotland's level of ambition in reducing greenhouse gas emissions and tackling climate change is amongst the highest in the world.
"Our report shows that Scotland continues to lead the UK in this area, as Scotland's emissions continue to fall year-on-year.
"The Scottish government's climate change plan will deliver the next chapter of emissions reductions into the 2030s and beyond.
"It's therefore essential that further work is done to ramp up emissions reductions right across the Scottish economy."
'Huge step forward'
The transport sector is one of the biggest contributors of greenhouse gas emissions and the Scottish government has already been criticised for failing to address this area.
Tom Ballantine, chairman of Stop Climate Chaos Scotland, said: "The CCC have rightfully praised the first minister's recent commitment to phase out polluting petrol and diesel cars which is a huge step forward in cleaning up air pollution and climate emissions.
"These kinds of transformational new policies are a necessity if we are to deliver on our commitment to the Paris Agreement.
"However, the committee makes very clear that the Scottish government needs to surge ahead now with credible action plans for housing, agriculture and transport if we're to successfully play our part in tackling climate change.
The Paris Agreement saw governments across the world commit to keeping global temperature rises below 2C.
A final version on Scotland's contribution to that aim is expected to be published in 2018.
'Strong progress'
Environment Secretary Roseanna Cunningham said: "I welcome this new report from the Committee on Climate Change. It shows Scotland continues to lead the UK in reducing greenhouse gas emissions and shows the strong progress being made.
"The recently published Programme for Government places climate action at its heart and includes bold new commitments in a range of areas including low carbon transport, infrastructure and energy efficiency.
"We acknowledge that there are areas where more needs to be done in order to continue meeting our ambitious targets and to prepare for even greater future ambition under our proposed Climate Change Bill."
The Scottish government is currently committed to a long-term aim of reducing emissions by 80%.
In January ministers set a new interim target of 66% by 2032.
Fonte: BBC News